20 Most Promising Unified Communications Solution Providers - 2019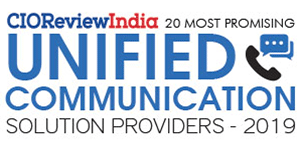 The 21st century workforce is thriving on Unified Communications and its applications due to the major benefits reaped through implementing these solutions. This includes improved efficiency, reduced costs and increased revenue, unified user clients and unified network. Moreover, as today's flexible work locations require 24/7 connectivity that is not confined to a single location, it is highly essential for organizations to unify the communication endpoints for easy and efficient workforce management. Whether it is an SME or a cloud based startup, there is no denying that today's UC technologies can enhance their overall flexibility and productivity.
Unified Communications(UC)solutions deliver integration of collaboration tools such as IP telephony for voice calling, web and video conferencing, voice mail, mobility, desktop sharing etc., with seamless user experiences that help people work together more effectively. Anywhere, on any device, they bring realtime communication from the phone system and conferencing solutions together with messaging and chat and integrate with everyday business applications using APIs. According to a recent research report, the global Unified Communications market is expected to reach USD 16.7 billion by 2025, exhibiting a CAGR of 16.8 per cent over the forecast period.
As inevitable as it is, UC is the future of Business communications and we understand enterprises are on a constant lookout for UnifiedCommunications solution providers who can keep them in pace with the changing norms. CIOReviewIndia presents a list of "20 Most Promising Unified Communications Solution Providers". Being closely scrutinized by a distinct panel of judges including CEOs, CIOs, CXO, analysts and CIOReviewIndia editorial board, we believe these solution providers can transform business processes through their significant offerings.
We present to you CIOTechOutlook 20 Most Promising Unified Communications Solution Providers - 2019.
Top Unified Communications Solution Providers
| | |
| --- | --- |
| Actis | Combines UC platform with AV technology and offers customised solutions for virtual office collaboration designed around the Microsoft Skype unified communication platform |
| Alcatel-Lucent Enterprise | Offers platform and cloud-based models that customizes a secure, affordable Unified Communication strategy and delivers services regardless of existing communication infrastructure |
| Archon Consulting | Customized ROI driven IT infrastructure solutions are provided to facilitate optimum management of technology investments and resources |
| astTECS Communications | Telecom distributors who enable the world's telephony engine for the growth of the business |
| Atos | Provides organization with communication tools to foster meaningful conversations across channels and media for realtime collaborative way to work |
| Dove Soft Pvt. Ltd. | A holistic digital and integrated cloud communication solutions provider offering voice, messaging, conferencing, mobility and video solutions |
| DSNL | A Command, Control and Conferencing (C3) service provider enabling effective communication for businesses across industries |
| Elite Info Systems | Provider of Cloud Telephony products with IVR Solutions which are hosted virtually in Cloud Telephony Environment for SMEs |
| Knowlarity | Offers cloud-based customer service and sales call handling solutions to businesses in Southeast Asia, South Asia, and the Middle East |
| Neron Informatics | Focuses on the development and implementation of innovative products for the telecommunication market |
| NTT Communications | Offers UCaaS which is a unified communications service that enables multinational organizations to communicate seamlessly with employees worldwide |
| Play Technologies | Audio visual system maintenance services are provided in order to run the equipments and devices seamlessly |
| PSPL | Customized solutions for virtual office collaboration designed around the Microsoft Lync unified communication platform |
| Pulse Telesystems | Brings together the entire communication in a single platform which provides mobility, presence and calling capabilities |
| Qumu Enterprise | A video based corporate communication service is offered that enables corporate employees to create a video message using one technology platform and consume it on another |
| Shell Networks | Provides customized UC solutions and delivers the effective and simplified end-user experience while providing the required tool |
| Tamplo | Task Management services are provided which helps in easy communication to assign and share clear action plans with the team |
| Telasar | Leverages the current communication and collaboration investment and fills in gap with the solutions as required by the customers |
| Telestax | An open source communication platform is facilitated to offer all the resources needed to deliver realtime solutions in record time |
| Voxvalley | Implements an advanced business communication system with advanced UC features integrated into daily routine of employees |