20 Most Promising Call Center Solution Providers – 2018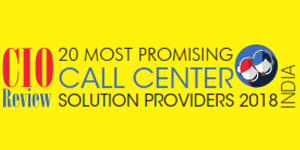 The call center and customer experience landscape undergoing a revolution. There is a gradual escalation in customer expectations that propel businesses to adopt a customer-centric approach and focus on developing a unique customer experience to retain existing customers and acquire new ones. Contact centers offering tailor-made facilities play a pivotal role in achieving customer satisfaction thereby increasing customer commitment. With cloud technology gaining momentum, multiple organizations have begun to adopt cloud communications as a vital part of their communications strategies. Successfully implementing a call center solution with a comprehensive suite of tools enables businesses to effectively manage customer issues from a broad range of communication channels, study data, enhance a contact center agent's performance, and attain their customer experience goals. In this competitive era, there is a need to have a robust contact center solution that assists in identifying areas for improvement. Witnessing a boom in this market segment, that has been a permeation of a large number of vendors providing similar solutions. Selecting the right solution provider to work with can prove to be quite a tedious task.
Perfectly understanding the challenge of choosing the right vendor to work with, CIOReview India comes to the fore with a list of "20 Most Promising Call Center Solution Providers". After much research and scrutiny, a renowned panel consisting of CEOs, CIOs, industry analysts and CIOReview editorial team has closed in on the select few who promise to meet and exceed customer expectation. We firmly believe that this listing can assist businesses to achieve better performance, and satisfied customers.
We present to you CIOTechOutlook 20 Most Promising Call Center Solution Providers – 2018.
Top Call Center Solution Providers –
| | |
| --- | --- |
| Aastell Telesystems | A provider of call center solutions such as Call Center Dialer Solution which is characterised by Predictive Dialing, ACD, Call Routing, Real Time Monitoring, and API Intergration amongst others. |
| Agami Tech | A provider of technology solutions such as Interactive Voice Response(IVR), Click-to-Call functionality along with Telephone CRM Connector, PBX etc. in the Customer Interaction and Unified... |
| AVIS e Solutions | A provider of comprehensive VOIP Contact Center Solutions that features Predictive dialer, Automatic call distribution, DNC calling, Auto-dialing, and IVR capabilities. |
| Call Center Hosting | A provider of software-based call center solutions which includes Predictive Dialer, Auto Dialer and Cloud PBX. |
| ClearTouch | A business solutions integrator that delivers cost-effective Software as a Service (SaaS) integrated with Multichannel, Predictive Dialing capabilities along with the firm's proprietary Interactive... |
| CloudShope Technologies | A provider of cloud telephony solution that delivers call centers with Hosted IVR, Skilled based Routing, Time based Routing, Call Recording features and more. |
| CloudSteer | A provider of cloud based Virtual Call Center solution for Telecallers, Sales and Service representatives. |
| Day2Day | A provider of applications for Tele Marketing, Tele Calling, Voice Log along with Bulk SMS solution and Call Center Head Phone and more. |
| Enjay IT Solutions | A provider of Telephony solutions based on open source communication project,Asterisk. |
| Exotel Techcom | A provider of cloud telephony technology that delivers Voice and Messaging services. |
| Hubris Enterprises | A Gold Distributor for ATCOM, ZYCOO, Freemate and Dasscom, and re-seller for Sangoma, Synway and more, Hubris delivering VOIP, Paging Management Systems, Call Billing System,VOIP Phones and more. |
| KingAsterisk Technologies | A provider of telecommunication services and consulting for IPpbx, VOIP Call Recording, Voice Broadcast, Video Conferencing along with specialized call center solutions. |
| Ozonetel Communications | A provider of Cloud Telephony Solutions that supports communication through multiple channels such as Voice, E-mail, Chat, SMS, and Social media. |
| Pallasite Works | A provider of an Android App that helps managers oversee employees engagemen twith customers by monitoring various aspects of calls. |
| SureVin BPO Services | A provider of outbound call center services that is capable of managing everything from Lead generation, Product sales, Document Digitalization and Management. |
| The Real PBX | A provider of Unified Cloud Communication services that include cost efficient Hosted PBX, VoIP, Toll-Free numbers, and Call Center Solutions. |
| Toras Solutions Pvt. Ltd | A provider of turnkey project and facility development services that include complete provisioning of IT Systems and Networking, Telecom systems and connectivity with IP based Communication... |
| Tubelight Communications | A provider of cloud platforms that enable businesses to make high quality voice calls and SMS along with products for monitoring user engagement, conversions, sales and more. |
| VERT-AGE | A provider of an array of software solutions such as Auto-dialer systems, Predictive dialer system, highly customisable CRM system, Cloud based system and more. |
| XTREME ICT PVT LTD | A provider of integrated communication solutions encompassing IP Telephony,Contact Center, Data Networking, IT, Audio Visual System Integration, Video Conferencing and more. |