20 Most Promising Contact Center Solution Providers - 2017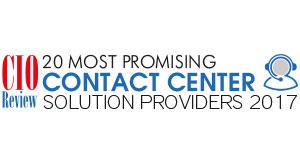 Gone are the days when the interactions happened only via phone calls to the contact centers. Today's customers, being equipped with state-of-the-art digital devices and always connected, leverage multiple channels such as chat, email, video and social media, and anticipate seamless experience. Perceiving the necessity, the contact centers of the modern era are evolving into more efficient customer engagement centers.
As the days of the single channel contact centers are long gone and the proliferation of digital technologies change the way customers' interact, the contemporary interactive customer engagement centers can aid businesses to communicate better with customers and address queries quickly. However, along with the quick resolution of customer issues, they need to lower operational costs, ameliorate customer relationship and enhance performance. To attain a remarkable transition, many contact centers nowadays rely on technological innovations such as cloud, mobility, social, big data analytics and more. For instance, cloud-based contact centers can render myriad of benefits to both customers and businesses alike, including enhanced security, reduced cost, greater scalability and most significantly, superior customer experience.
Currently, businesses need proficient partners to accomplish best of breed contact center solutions to make customer interactions friendlier, cheaper and easier. For enabling enterprises to stay abreast with latest technologies and become efficient, many skilled players have already entered into the contact center enclave with effective solutions. Identifying a right partner is an arduous task to many businesses. Hence, we at CIOReview have come up with "20 Most Promising Contact Center Solution Providers 2017". A distinguished panel comprising of CEOs, CIOs, industry analysts and CIOReview editorial team have scrutinized various companies before finalizing these technology vendors, who optimize groundbreaking technologies to cater cost-effective solutions and reinforce organizations in delivering outstanding customer service.
We present to you CIOTechOutlook 20 Most Promising Contact Center Solution Providers - 2017.
| | |
| --- | --- |
| Affinity Business Solutions | Renders Contact Center Services that include Lead Generation, Tele Sales, Customer Services, Email Support and Backend Support, to the Retail, Customer Service, Travel and Technology sectors |
| Ameyo | A provider of software based communications solutions such as Customer Engagement Hub, Customer Interaction Management (CIM), Contact Center Software, Workforce Management, Predictive Dialer and... |
| Avis E Solutions | A plethora of offerings that includes Contact Center Solutions, Telecom Solutions, Predictive Dialer, Software Development, Ecommerce Solutions, Online promotion, SEO, SMO, Website Development and... |
| BitVoice Solutions | Equips organsations with a suite of Voice-based technologies that includes Call Centre solutions, Voice Conference solutions, IPPBX, Voice Broadcast solutions, Voice loggers and Custom Voice solutions |
| Eupraxia Telecom | Endows the telecommunications sector with Telecom integration services, Mobile Computing, Web-based telecom solutions, Cloud telephony, Net telephony, GSM based Call Center solutions, Quality... |
| Genesys | Specializes in Contact Center Modernization, Genesys Cloud, Self Service, Continuous Workforce Optimization, Enterprise Workload Management, Proactive Customer Communications, Cloud Contact Center,... |
| Indian TTS | Facilitates the Contact Center industry with a text-to-speech engine for regional Indian languages and IVR-API services |
| iSON Technologies | A plethora of offerings that include Contact Center Technology, Consulting, Sytems Integration and ADMS, Data Center Services, Mobile Social Networking, Revenue Assurance and Fraud Management, CEM... |
| Knoah Solutions | Supports a wide range of industries with Solutions for Email, Live Chat, Support, Back Office Processing, Business Transcription, Quality Monitoring and Concierge services. |
| Microware Computing & Consulting | A software development and consulting organisation that caters to Contact Center solutions and Analytics, Real-Time Software, Security, Mobile Computing, Customer Experience Management, ERP and... |
| Neron Informatics | A provider of state-of-the-art IPPBX systems including solutions for Network Security and Surveilance and Internet of Things (IoT) |
| Noble Systems India | Equips the Contact Center industry with a wide range of solutions including Call Management, Agent Desktop, Management Desktop, Digital Recording, IVR, Messaging, IP & VoIP, and Omnichannel services |
| NovelVox | Offers a solution suite that includes Contact Center Management, Productivity Monitoring System, Unified Desktops, Computer Telephony Integration, Customer Service, and Monitoring and Analytics |
| Servion Global Solutions | Furnishes its clients with solutions for Customer Expereince By Design, Contact Center Optimization, Customer Interaction Management, Managed Services, Predictive Self Service, Customer Expereince... |
| Sonata Software | Furnishes businesses with solutions for Omni-channel Commerce, Mobility, Big Data Analytics, Cloud Solutions, Customer Engagement, Application Development and Maintenance, Software Testing and... |
| Synway | Specialises in Telecom Hardware and IP communications with solutions that include VoIP Gateway, Softswitching Platform, CTI Voice Board, Integrated Multimedia Switch, Asterisk Hardware, Telephony... |
| Teckinfo | A provider of Contact Center Solutions, CRM, Dialer, IVR, Help Desk Solutions, Email Managment Software, Unified Contact Center Software, and Lead Management Software |
| Unify | A Communications Service firm that caters to Unified Communications, Corporate Telephony, Contact Centers, Cloud Communications, Cloud Services, VOIP, Business Communications, Team Collaboration... |
| VOICE etc | An IVR service provider that caters to Cloud IVR, Virtual Numbers, Customer care solution, Miss call alert system, Click2call system and API Integration |
| VoiceGate Technologies India | Provides a comprehensive solution suite that includes Contact Center Solutions, Bulk SMS, Automated Call Distribution, Interactive Voice Response, Election Campaign, and Campus Management |