20 Most Promising Call Centre Solution Providers - 2016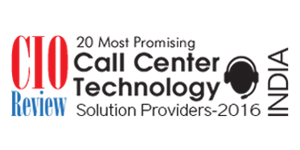 Having excellent workforce as well as cost- effective call centre outsourcing services, India has become one of the most preferred outsourcing locations across the globe. With the evolving technology, the industry has witnessed a paradigm shift to open source platforms, cloud enabled applications for communication and interaction, inferred meaning of messaging etc.
As product offerings proliferate along with evolving technology, enterprises require solutions to reduce costs of their call centre infrastructure and to deliver a greater flexibility and feasibility in addressing customer service requirements. Hence, the transformation of call centre infrastructure and strategy has crucial role in succeeding in this omni-channel world. For evolving call centre market, advanced software platforms include automatic call distribution, interactive voice response (IVR), workforce management and optimization, a dialer for outbound communications, integration with Customer Relationship Management (CRM) systems, multichannel queues to handle different kinds of customer communications, and reporting are available today to reduce complexities.
Enterprises require suitable vendors who succour to increase productivity, process service tickets, manage customer accounts while reinforcing their telecommunications infrastructure to help them attain improved and successful call centre operations. This can lead to highest ROI and best long-term value.
We at CIOReview understand this requirement of the C-level executives. Therefore, CIOReview brings a list of "20 Most Promising Call Centre Solution Providers" to aid C- level executives in spotting most suitable vendors. A distinguished panel comprising of CEOs, CIOs, industry analysts and CIOReview editorial team have scrutinized various companies before finalizing these vendors who adopt innovative technologies to help the call center industry grow.
We present to you CIOTechOutlook 20 Most Promising Call Centre Solution Providers - 2016.
| | |
| --- | --- |
| *astTECS | A provider of call center solutions including Internet Protocol- Private Branch Exchange, Interactive Voice Response Systems, Video Conference Solution and Call Center Diallers. |
| Agami Tech Private | A provider of Learning Management Solutions, Interactive Voice Response Systems and Customer Application Development apart from Unified Customer Interaction Management suite. |
| Altius Customer Services | A provider of healthcare services to hospitals, healthcare providers, biomedical equipment manufacturers and clinics in India. |
| Avyukta Intellical | A provider of IP Telephony Solutions, Predictive dialer, call center solutions, VoIP Soluitons for Retailers and Voice Over IVR E-commerce solutions |
| BroadSoft | A provider of cloud Unified Communication Service, skills-based routing, reporting and call recording service, SIP Trunking Service, and Cloud Contact Centers Solutions |
| Eben Telecom | A provider of Mobile VAS Solutions, Bulk and Enterprise Messaging service, IVR and Automated Dialling Solutions and CRM app development service. |
| Exotel Techcom | A provider of ClouD Telephony solutions with features such as Multi level IVR, Real Time Notifications, Call Recording, Call Analytics and CRM Integration features. |
| Firstsource Solutions | A provider of Business Process Outsourcing services to customers in banking, telecom and media, and healthcare sector. |
| Futurecalls Technology | A provider of consulting, Process Re-engineering, Product evaluation, Sizing, Training, Turnkey technical infrastructure, Telecom Audit, Project Management & Technical Solutions implementation and... |
| Knoah Solutions | A provider of contact center services that include voice, email, chat and other back office services apart from multi-channel customer and technical support services. |
| Lintel Technologies | A provider of telephony development products and call center solutions, app development service, Power and auto dialer solution and Hosted PBX Development service, |
| MET Technologies | A provider of telecom services, online education, customer care services and Financial Service in addition to other services such as Digital Marketing, web marketing and software development. |
| NEC India | A provider of IT and network systems, such as Security and Surveillance Systems, Carrier Network, IP Telephony Solutions, Retail solutions, Private Network Solutions |
| Nuance Communications | A provider of Voice Recognation Solutions, voice biometrics, document imaging, print management, connected car, wearables, software and text-to-speech solutions. |
| Open Mind Services | A provider of services such as HR Help Desk, Patient Relationship Management, Help Line and software outsourcing and offshore software Development service. |
| Ozonetel Systems | A provider of cloud based contact center solutions, Inbound call center solutions that includes Hosted IVR, skill based routing skills, CRM Integration, Priority Routing and realtime dashboard... |
| PanTerra Networks, Inc | A provider of Business Telecommunications, Integrated Communications, Unified Messaging, Collaboration and Conferencing, Hosted PBX and File Sharing Solutions. |
| Parahit Technologies | A provider of VoIP and Network Integration Service apart from IVR, Voice Mail, Voice Mail, Auto Dialer, Web Server, Predictive Dialer and Preview Dialer product. |
| Pegasystems Inc. | A provider of Business Process Management Software, Dynamic Case Management Software, Customer Relationship Management Software, Predictive Analytics Software and Call Cente Software. |
| Phykon Solutions | A provider of voice support, e mail support, chat support and social media support service, in addition to BPO Service and Software Solutions. |